What does Print & Cut mean?
'Print & Cut' means the process of combined printing and cutting on one or more devices.
It was used initially in order to describe the capabilities of hybrid plotters, such as Roland PC60, which merges print and contour cut tools in one device. Nowadays this item is used for work processes, where prints are contoured or processed using so called register marks. These marks are detected from optical sensors from the cutters and are used for accurate cutting of the contour lines. All current cutters have optical sensors or can be customized with them.
Pjannto RIP Print & Cut Suite supports hybrid plotters as well as mixed printer/cutter environments. Mixed printer/cutter environments can consist of separate printer and separate cutter also from different producers.
| | |
| --- | --- |
| Product info | |
Print & Cut Suite for Roland SP printer and mixed printer/cutter systems
The software suite allows output of 'Print & Cut' jobs directly out of programs like CorelDRAW, FreeHand, Illustrator, QuarkXPress and others. You can assign a color to a contour line. While printing via included Pjannto Windows printer driver, job is previewed in Pjannto RIP program window, where all usual print parameters can be determined. Additionally one can define, which colored contour lines are not printed, but are cut after printing.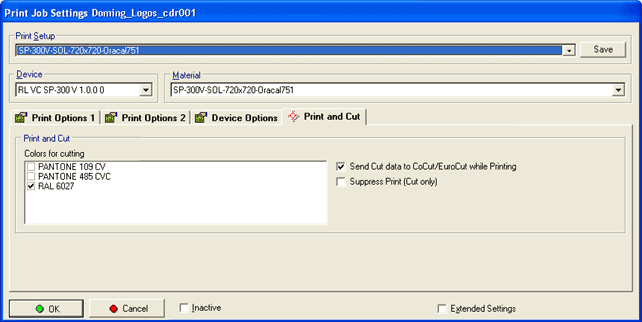 Fig.: Print and cut dialog with contour line color determination (RAL 6027)
Different colors can fulfill different cut options. This special function makes it possible to assign one color to a cut tool and another color to a pouncing tool. So small runs of self-adhesive labels can be produced fast and low priced.
Pjannto RIP - Basic features Print:

Scale, rotate, mirror, multi copies, positioning
Segmentation of oversized formats - tiling
Clipping
Print output via USB, Firewire, COM, LPT, TCP/IP or print server
Color management with density correction, gamma correction and linearization
Controls all usual kinds of raster, like stochastic raster, error diffusion, point or ellipse raster
Light Cyan, Light Magenta and related color control in brilliant quality, even transitions in gradient fills
High speed (prints while ripping)
PostScript level 2 RIP
Set different POS marks of the different cutter manufacturers (for Print & Cut)

Detailed description of Pjannto RIP: more …

CoCut Standard - Basic features Cut:

Drives more than 240 cutters
Controls all cutter functions
Previews cutting contour
Cuts by color

Detailed description of CoCut Standard: more …