Why do I need a RIP?

Printers need the information which has to be printed converted into print dots depending on the resolution.

Printing of bitmaps is also possible with the driver included in printer package, as long as you are not very demanding on quality, edge sharpness, color resolution and speed.
Computing algorithms in the software RIP optimize output speed and quality compared to generic printer drivers.

Print applications for architecture, technique, construction and CAD benefit as well from the possibilities of a RIP. Technical applications like construction drawings and CAD prints require a high-contrast text and edge-sharp lines for line drawings. It also requires good color properties for constructional figures and templates. Via the virtual PostScript Windows printer driver of Pjannto RIP one can print directly out of AutoCAD or CATIA. Compared to the driver provided with the printer Pjannto RIP can print in any length and size (using tiling).

In order to output edge-sharp vector data, which were designed in usual layout programs e.g. CorelDRAW, Freehand, Illustrator, QuarkXPress, and to use the scaling advantage of vector-based data, Pjannto RIP uses, just like any other professional RIP, the PostSript format.

In the figures below the logo 'Pjannto RIP' is a positioned EPS. With a simple printer driver only a bitmap preview picture of the EPS is printed (Fig. 1). With a RIP all vectors existing in the EPS file are printed in best possible quality (Fig. 2).
| | | |
| --- | --- | --- |
| Fig. 1: Brochure printed with simple printer driver | | Fig. 2: Same brochure printed with a RIP |
Professional RIPs use color profiles for the 'true color' output. They ensure a 'true color' and high-quality print result. For each printer/ink/material combination a color profile must be generated. Also for cost effective types of paper an individual profile can be made, with which one can cut down costs.
RIPs ensure an optimal control of all usual color printers with the respective machine-specific possibilities.
Who can benefit from usage of RIP software?
Basically everybody who wants to print vector data and edge-sharp letters. All who want to output photos and bitmap data as real as possible (true color). For jobs where printing speed is decisive. All who own a digital printer without PostScript interface. All who want to print without length limit from a roll. All who have to segment jobs.
This could be:
Advertising agencies, architects, artists, construction engineers, copy shops, decorators, designers, digital printers, do-it-yourself stores, evaluators, photographers, real estate brokers, retail store chains, screen printers, signmakers
| | |
| --- | --- |
| Product info | |
Pjannto RIP is made for users of inkjet, laser, thermo transfer and solvent printers. Its professional functionality allows usage of newest generation printers - especially large format printers. It supports printer parameters like 6 color support, variable dot, cut off, media heating, form feed correction etc...
Its excellent price/performance ratio makes it very interesting for owners of older digital printers from Encad, HP and Epson.
Before printing side previews are generated. Pjannto RIP jobs are preinterpreted in order to decrease waiting time. This increases productivity because preinterpreted data is stored and can be printed with different resolutions, sizes, print parameters without time consumption.
Productivity is strongly increased by storing the before-interpreted data. Each job, which was already once interpreted or printed, can always be printed again without large delay. This applies, even if scaling, resolution or other print parameters have changed!

Pjannto RIP prints directly bitmap formats (JPEG, JPEG2000, TIFF, GIF, BMP) besides EPS, PS and PDF.
An additional universal printer driver can be used from all common illustration programs, e. g. Illustrator, Freehand, CorelDRAW, and also out of Photoshop or Acrobat.
Pjannto RIP stands for affordable PostScript® quality.
Basic features:
Scale, rotate, mirror, multi copies, positioning
Printing via Windows driver or via drag & drop
Printing via USB, Firewire, COM, LPT or TCP/IP, Printserver
Color management with density correction, linearization and gamma correction
Standard ICC profiles can be embedded
Controls all usual kinds of raster in exceptional quality, like error diffusion and auto typical point or ellipse raster. The special color step optimized auto typical raster method allows extra fine raster resolution with even transitions in gradient fills.
Light Cyan, Light Magenta, Variable Dot and related color control in brilliant quality
High speed (prints while ripping)
Prints in optimal quality (e. g. sharp font edges, included EPS graphics are printed accurately)
PostScript level 2 RIP
Printing from all MacOS X programs via TCP/IP network
Easy installation of new printer drivers and calibrated materials
Clipping
Set different clipping signs
Set different POS marks of the different cutter manufacturers (for Print & Cut)
All options are adjustable for professionals
Additional features 'Professional':
Segmentation of oversized formats - tiling
Printing via local network
Virtual Windows driver for printing out of any program is network-compatible
Drive multiple printers at the same time
Exemplary Program Windows: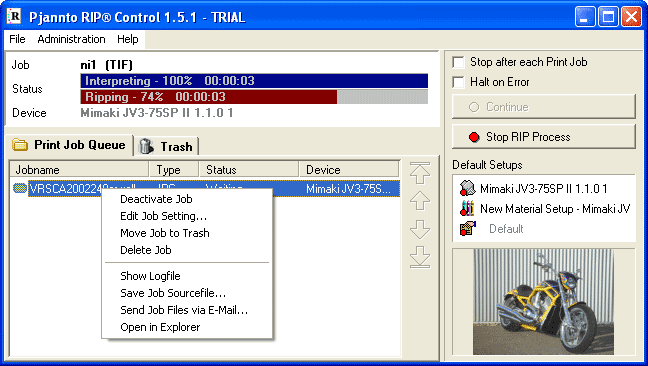 Fig. 3: Production mode window with print queue and printer controls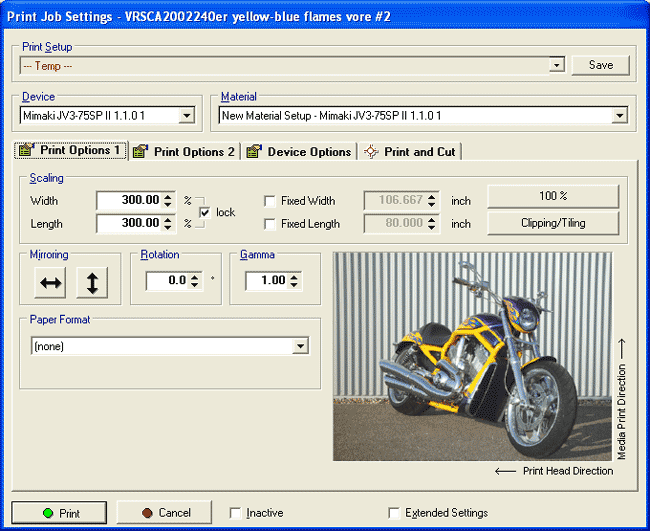 Fig. 4: Setup dialog for print output
Clipping and Tiling
Fig. 5: Clipping selection for removal of white areas and for proof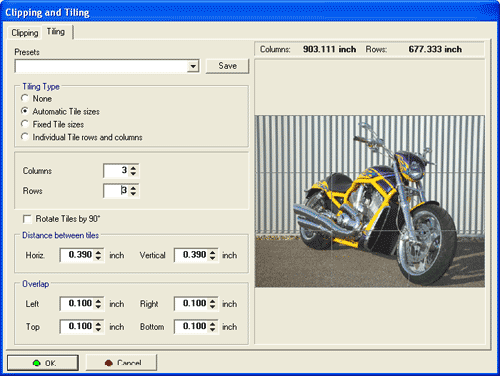 Fig. 6: Segmentation of oversized formats via automatic tiling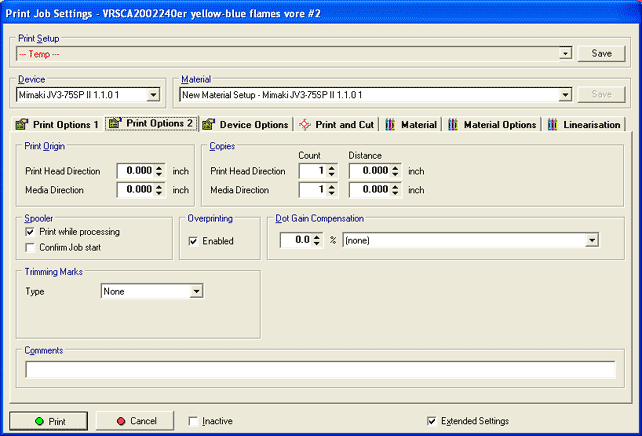 Fig. 7: Output options with extended setup dialog for professional users
| | | |
| --- | --- | --- |
| Fig. 8: Plot Manager with unfolded device tree structure | | Fig. 9: Info field with icons for Pjannto print engine, Pjannto Plot Manager and Pjannto Virtual Printer |
Pjannto RIP offers a special Plot Manager whose job queue allows to print jobs as often as one wants. Plot Manager permits the configuration of devices and ports in networked working areas.
Suite 1 with vector based design software - The package for all who want to print, compose and serialize.
Suite 2 with cutting plugin - The package for all who want to print and cut.
Suite 3 with design and cutting software - The package for all who want to 1. print, 2. cut and 3. compose.